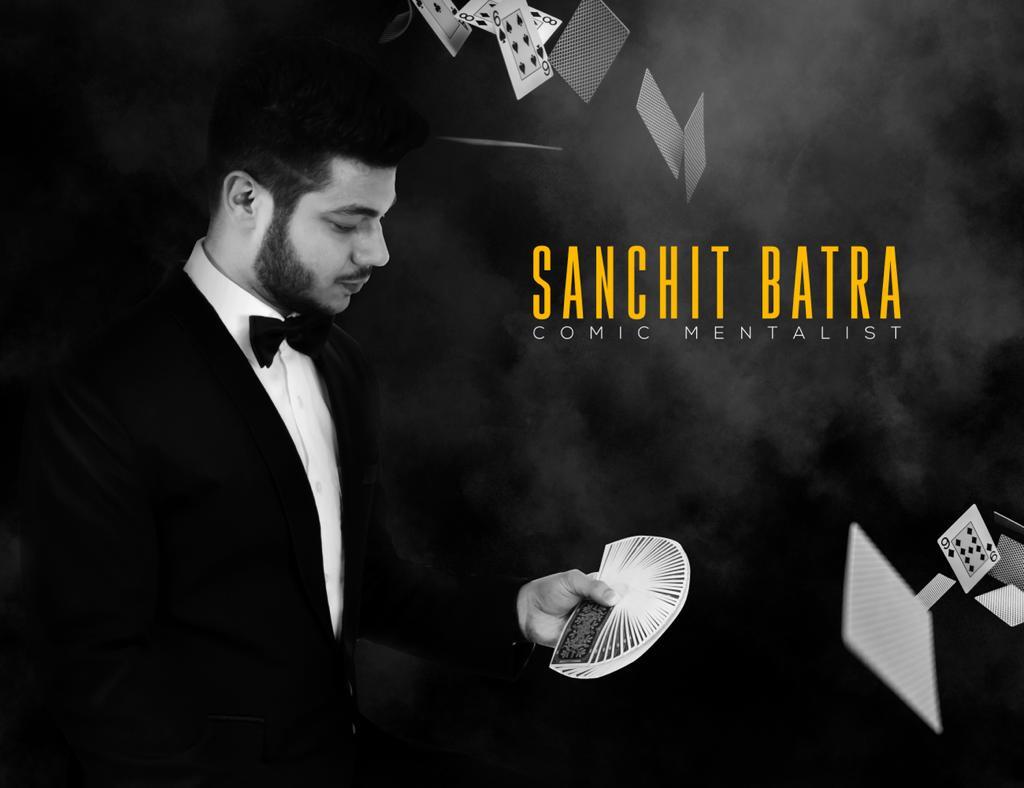 WELCOME TO SANCHIT'S WORLD OF MAGIC
Sanchit Batra aka sleight illusionist is a Delhi based Comic mentalist and a talented magician who has been acclaimed internationally to display unimaginable illusion on the stage. His Mind tricks on the stage are certain to charm and entertain you. As he connects with the audience at a personal level by reading their mind thoughts, people thoroughly enjoy his……..
NOW AVAILABLE FOR YOUR EVENTS
Experience the magic of the mind with the best Magician in Delhi-NCR
If you're looking for a magical and mind-bending experience, look no further than Sanchit Batra – the best Magician in Delhi NCR. With years of experience and a passion for captivating audiences, Sanchit is the perfect choice for any event or occasion. Sanchit Batra's unique blend of magic and mentalism has wowed audiences across Delhi and the NCR. He has become a household name in the entertainment industry, with an impressive portfolio of shows, events, and corporate gigs.
Experience the captivating world of magic and illusions with the unparalleled artistry of Sanchit Batra, Delhi's premier magician, who is ready to enchant and mesmerize you!
" We should support modern magic"
"This is so cool, Sanchit"
"I like your magic but i loved your sense of humour"
" I am totally spellbound, you have great talent"
"How you know my ATM pin, just amazing!"
"You are a natural performer"
"You can make someone think for 100 times"
Plus Many More Fortune 500 Companies...
As one of the best magicians in Delhi NCR, Sanchit Batra is an expert in the art of illusion. He combines his knowledge of sleight of hand, misdirection, and storytelling to create a mesmerizing experience that will leave you in awe. His performances are filled with humour, wit, and suspense, making them perfect for any audience. But Sanchit Batra is more than just a magician. He is also a master of mentalism, an art that requires him to read the minds of his audience members. His mentalism shows are a unique blend of psychology, intuition, and entertainment that will leave you questioning your thoughts and beliefs.
As the best mentalist in New Delhi, Sanchit Batra's performances are a true test of the human mind. He can read your thoughts, predict your actions, and even influence your decisions without you even realizing it. His shows are a fascinating journey into the world of the human mind, and he'll leave you wondering just how much he knows.
"Enter a realm of awe and fascination alongside Sanchit Batra, the extraordinary magician and mentalist!"
Sanchit Batra is also known as the best mentalist in Delhi. He has a reputation for delivering some of the most mind-blowing performances in the city. His shows are perfect for corporate events, private parties, weddings, and any other occasion where you want to leave a lasting impression.
In addition to his performances, Sanchit Batra offers workshops and training sessions for aspiring magicians and mentalists. He has trained many of the top performers in the country, and his workshops are a great way to learn the art of magic and mentalism from a true master.
Regarding entertainment, Sanchit Batra is the best Mentalist in Delhi NCR. With his unique blend of magic and mentalism, he has captured the hearts and minds of audiences across the city. Whether you're looking for a corporate event, private party, or any other occasion, Sanchit Batra is the perfect choice to make your event unforgettable. Book him now and get ready to experience the magic!